| | |
| --- | --- |
| TEXTILE ART |    The Fabric of our Lives |
Dear Zenith Art Lovers,
I always find it remarkable the different ways artists use their materials. Fiber, cloth, wool, can be woven, appliqued, dyed quilted, deconstructed, and patch-worked. These incredibly talented artists show many ways that fiber and cloth can be used to make art. Each of these artists use their medium quite differently.
In times of tension and uncertainty the softness of the materials calms our senses while expanding our minds. Loose yourself in the landscapes of Amanda Richardson, swim through the layers of Susan Klebanoff's multidimensional tapestries, wonder through the paths of Sereix's scenes, and travel the world with the wide range of people, places and landscapes of Mihira Karra.
Please enjoy these creative and talented artists.
Creatively yours,
Margery E. Goldberg
Mihira Karra
is a fabric collage artist originally from Calcutta, India and grew up in West Bengal and Uttar Pradesh. She started sketching and using pastels as a child and realized her passion for portraiture and figurative art as a twelve-year-old when she sketched her first portraits of her great aunt and grandmother. She focused mainly on portraits of family and friends early on as she used them as live models to pose for her. She later used photographs as inspiration for figurative work. Her work in International Development has also inspired portraits of women, men and children from her travels around the world.
More recently, Dr. Karra has delved into the world of fiber arts. She is fascinated with the potential of fabrics as a medium thanks to an inspiring workshop under the tutelage of renowned fabric artist Laura Breitman. She is currently "painting" with fabric and using fabric as a medium for portraits and figures.
Amanda Richardson was born in Cornwall in 1957 and has lived there for much of her life. She left to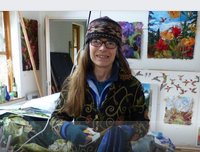 take her degree at Goldsmiths College, London University, but her work is essentially involved with wild places and so she was drawn back to her county. In 1986 she left Cornwall to spend ten years on San Juan Island in the Pacific Northwest of America, working from the dramatic landscapes of islands, mountains and water. Further travels have taken her north to Alaska and south as far as New Zealand.
Her work reflects a fascination with plants as they grow in their native environment, and rocks shaped by wind and water. Both birds and insects are included in her work as they are an integral part of her wild garden, itself a part of her working process.
Throughout her career Amanda Richardson has shown in galleries and is available for commission, which she has done many. Her work varies in scale from pieces suited to domestic interiors to works on a grand scale for public buildings. The first major commission was in 1979 in conjunction with the Royal School of Needlework. This was an embroidered fabric collage 9′ x 7′ to celebrate the 400th anniversary of the Bath family at Longleat House. American clients include Boeing, Universities of Alaska and Washington State, BASF, Waldorf Astoria, Marriott Hotels, Hilton Hotels.