Zenith Gallery's newest exhibit, "Great Moments in Art: Works by Stephen Hansen," is on display December 4-January 30, at our Iris Street location. This collection of whimsical parodies was created by one of our most endearing, enduring artists – Stephen Hansen. Hansen has been represented by Zenith for almost our entire 37-year history, and has developed a host of devoted followers, both within the area and around the world. In fact, Hansen's work has been shown worldwide over the past 40 years. His work has featured in the collections of Embassies around the world, as well as many museums, commercial buildings, airports, and government buildings, including the Federal Energy Regulatory Commission, right here in Washington, DC.
Hansen's newest body of work is a nod to both the formal practice and study of Art Appreciation, and his viewer's knowledge of both individual great works of art and the seminal Art Movements that define Western Art History: cave paintings, Cubism, Abstract Expressionism, The Italian Renaissance, The Northern Renaissance, Realism, Surrealism, Post Impressionism, Pointillism, Pop Art and so forth.
Art Appreciation is the knowledge and understanding of the universal and timeless qualities that identify all great art. The more you appreciate and understand the art of different eras, movements, styles and techniques, the better you can develop, evaluate and improve your own artwork.
Art Movements are the collective titles that are given to artworks, which share the same artistic ideas, style, technical approach or time frame. They provide Art Historians, Art Educators, Art Critics, and Art Theorists a means of grouping together artists of a common period, style or technique, so that they may be more easily understood and discussed. Art Critics or Historians usually name Art Movements retrospectively, and their titles are often witty references to the artist's own comments about their work, or sarcastic nicknames pulled from a bad review.
These pieces are clearly "Hansens," but they also delve into new territory for the artist, in that he has revealed his remarkable ability to replication a wide array of painterly techniques and styles. Each of these new works features his trademark painted papier-mâché figures, but this time they are taking center stage in all their three dimensional glory, mounted on paintings done in acrylic on canvas, mounted on wood panels.
What are these little guys doing? They are painters, wearing white caps and white painters' scrubs, painting these great works of art. In so doing, they are making a rather clever statement about what it means to 'paint' a painting. In the artist's own words: "This project started with a 'Rothko,' and the notion that one's life work might have been accomplished one brilliant weekend with a roller. What if artwork really was, well? … Work, and paintings were done by painters? It had never occurred to me, until I became involved in this project, to pretend to be someone else for a few days. It is a bit like a holiday, though I would recommend Gauguin over van Gogh." 
In essence, Hansen's achievement has been to create a group of artwork that playfully parodies a Brief History of Art in the Western World. Incidentally, the Supreme Court has ruled that a parody is not a copy – and thus, Hansen is not committing copyright infringement. Just in case you were wondering.) What we at Zenith enjoy is that he does so, while poking fun at himself – at maybe at each famous artist (just a little bit) not to mention anyone else who loves the original works he has replicated. His respect and admiration for each great work of art clearly comes through in his careful scrutinizing of each piece. Hansen is dissecting each work of art, distilling it down to its most notable and charming elements. In so doing, his pieces manage to tease, entertain, educate, and amaze. No small achievement!
The Following Examples of Hansen's Great Works of Art and
Their Respective Art Movements are in (roughly) Chronological Order:
The Cave Paintings of Lascaux, France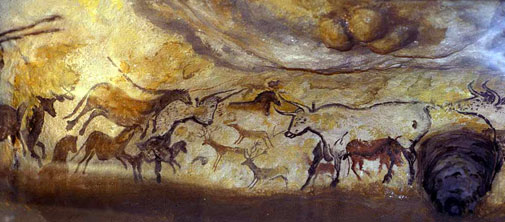 The Italian/Southern Renaissance
The Northern Renaissance
Post-Impressionism
Pointillism
Cubism
Surrealism
Neo-Plasticism
Abstract Expressionism
Pop Art