Trees are a Symbol of Life
Arbor Day;
Arbor Day is an annual observance that celebrates the role of trees in our lives and promotes tree planting and care. As a formal holiday it was first observed in 1872, in Nebraska, but tree planting festivals are as old as civilization. The tree has appeared throughout history and literature as the symbol of life.
Since our worldwide shut down has begun I have been talking a lot about Trees and Mother Nature. They are undeniably linked. One thing is true about both. If we treat Mother Nature well, she will give us endless blessings of life regenerating itself. If we do not, then she will have the last word!  The same is true for trees. If we treat them well they provide many necessities of life.  If we do not they can crush your house or your body, and if we take them all away then we will not survive on this planet.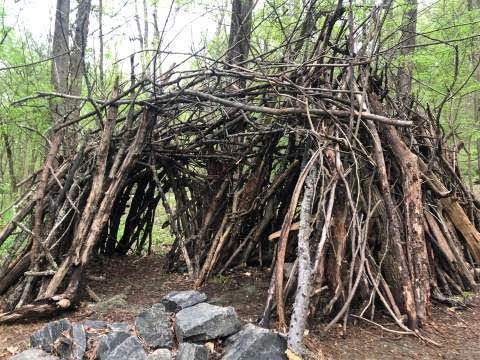 Trees have been depicted in art from the beginning of mankind and used to create art and functional objects. We are not alone; many animals and birds use wood and all that comes from trees for shelter and food just to name a few.
Yesterday while taking a walk in Rock Creek Park we came along a wonderful structure that someone put together. For how many millenniums has man been making shelters like this?
The Zenith Community Arts Foundation
(ZCAF) has been awarded a $50,000 grant from the DC Commission on the Arts and Humanities. The 1:1 matching grant is to support the building of a Wood Shop and a Mobile Wood Shop (MWS) to teach woodworking to DC residents, and apprenticeship training leading to much needed jobs. The Wood Shop will be located at 1429 Iris Street NW, Washington, DC, and will serve as the headquarters for larger equipment, project storage, and raw wood storage. The Wood Shop will be available to Ward 4 residents, serving ZCAF's immediate neighbors.
The Mobile Wood Shop has been a dream of mine for years. "
Our goal is to teach skills to a new generation, specifically woodworking and finished carpentry," said Margery Goldberg.  This grant provides initial capital for ZCAF to start construction on both wood shops. "We are working on securing additional funds from regional companies and organizations, including those in the building trades," said Ron Nessen, Board President of ZCAF. "There is incredible demand for carpenters today and this project presents an opportunity to expand residents' exposure to wood working and career opportunities, especially for those interested in the trades
."  
Read more about the Mobile Woodshop
Make your tax deductible ZCAF donation here
Today's artists are painters William Buchanan, David Morton, Ellen Sinel, Patricia Skinner, Bradley Stevens, who all use different mediums to showcase their love of Nature and trees. Karen Starika uses embellished photography to present her love of trees.
Anne Bouie, Aaron Laux, Carol Newmyer, Larry Ringgold , Michael Young, and I use a variety of materials including wood to express our devotion to trees.