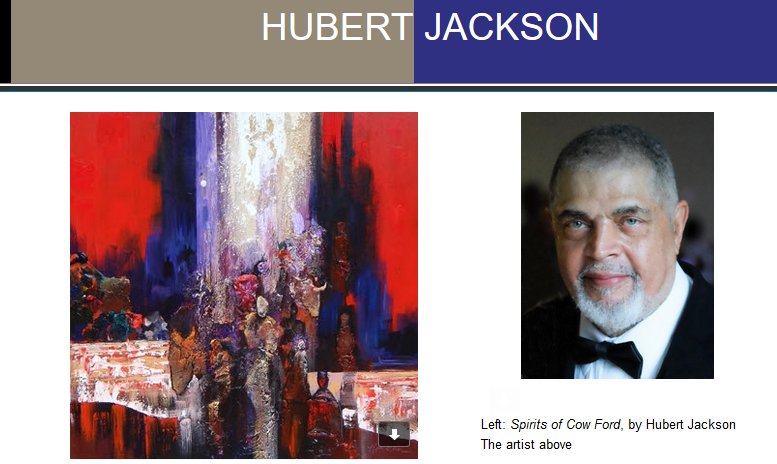 April 16th is Emancipation Day in the District of Columbia. In honor of the day we are delighted to present the art of Hubert Jackson whose paintings document the history of Civil War battle grounds in his home state of Virginia, where many African Americans also fought and died. Hubert has visited these battlefields, collecting tree bark, bullet casings, buttons and relics which he incorporates in his paintings with symbolic meaning. His catalog juxtaposes photographs from the specific battle fields next to his paintings from those sites.
Hubert taught art at Wilson High School here in DC for most of his career and, coincidentally taught several artists we represent. He recently completed a 68-foot mural for the entrance of though the 1% program at DGS run by Sandy Bellamy. The 'Percent for Art' program commissions artists of Washington, DC, with 1% of the cost of large-scale construction projects being set aside to fund the commission of original works.
Sections (above and below) of the 68 foot mural by Hubert Jackson installed at Wilson High School, WDC
Hubert's work is currently on display in an exhibition titled "Carved in Stone, Painted with Light" at 1111 Pennsylvania Avenue, NW. The building is currently open to the public, or you can see it here on our
website
.
Hubert's work is also featured in a show at the Howard University Classics Department and the Harvard University Center for Hellenistic Studies where his painting, "Crossing Boundaries of Space and Time," won first prize. Black Classicism in the Visual Arts, at Howard University Interdisciplinary Research Building 2201, Georgia Ave NW, Washington, DC 20059 will be up through October. Curated by Carol Rhodes Dyson, the show is currently closed due to Covid 19 closures. Read more about it here.
Hubert has a large range of work from abstract to figurative, spiritual and the battlefields. He has shown extensively over the years. He's known for his texture and depth of his paintings.
Please take a moment to enjoy his creative spirit.
"Whether my work is non-objective or representational – or a blend of both – the creative spirit within me remains the same. When I paint, I feel a certain spirituality and a need to express it in a way that leaves a positive and lasting impression.
Some of my recent work deals with the period of American history from its inception throughout the Civil War and in particular the spirits of those who have come and gone but remain anonymous and unaccounted for through war, slavery, poverty or the passage of time. Although they are no longer physically present, their spirits remain with us as they have become one with nature – embodied within the life forms that emerge from the earth.  
Much of my work is characterized by the symbolic use of pine bark figures to represent spirits of long forgotten ancestors. The very nature of pine park – its shape and textures – appears to suggest human forms, especially bark from old growth trees. I feel that by juxtaposing these limbless entities over and about recognizable human figures and scenes, I am connecting with and validating the existence of those whose shoulders we stand on.
The march of humanity from our earliest origins in Africa has at times taken turns that make us forget that we are of one race and we rise and fall as one."   Hubert Jackson
See more Hubert Jackson paintings
https://www.artsy.net/artist/hubert-jackson