Suffrage is very personal to me. Coming from Rochester New York I stand in the footsteps of legends like Susan B. Anthony and Frederick Douglass. 
"I declare to you that woman must not depend upon the protection of man, but must be taught to protect herself, and there I take my stand. There never will be complete equality until women themselves help to make laws and elect lawmakers." Susan B. Anthony
Frederick Douglass
started his newspaper in Rochester, New York. After returning to the U.S. in 1847, using £500 (equivalent to $46,030 in 2019) given him by English supporters, Douglass started publishing his first abolitionist newspaper,
The North Star,
from the basement of the Memorial AME Zion Church in Rochester, New York.
My father owned a printing and advertising company in Rochester and was always fighting the good fight. That is how I grew up, and when in high school I wrote a paper about anti-apartheid. My parents raised me in a way that I never thought there was anything I could not do because I was a woman. I became one of the first female woodworker and furniture designers in the country and now, after 50 years in Washington DC, one of my prime initiatives is being realized as the Zenith Community Arts Foundation is building a mobile wood shop to train finish and rough carpenters and teach woodworking skills.
https://www.zcaf.org/
Having come to Washington in 1968 to attend George Washington University my college years were one demonstration after another. I even spent a night incarcerated at the DC Armory for protesting. Never being afraid to tell truth to power, as most DC politicians will confirm, I was nicknamed Megaphone Margie!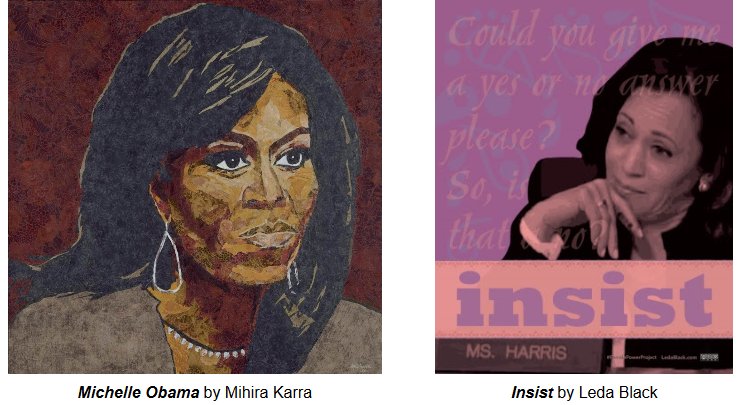 "And Yet They Persisted: How American Women Won the Right to Vote"
"Gilded Suffragists: The New York Socialites Who Fought for Women's Right to Vote"
Another fabulous Washington production, "19: The Musical" is a must see whenever they perform again. They are doing online events. Check out their
website
. 
https://www.19themusical.com/
Produced and written by Jennifer Schwed and Doug Bradshaw, with music by Charlie Barnet. Contact:
info@19themusical.com
This fabulous musical premiered earlier this year at The Women's Museum. Check out their
website
.
So many Zenith Gallery artists are making art about woman's empowerment. Several are featured here and many more in our gallery and on our
website
. The gallery is now open regular hours. You can plan your safe visit with remote temperature checks at the door, limited attendees, and face masks required. All are welcome but please call first before arriving.